The only traveling today was the walk back and forth to the falls. So here are some informative links and such.
National Park Service - Katmai National Park - Brooks Falls
Here's the layout of the camp. Meals are served at the lodge. Photo-ops are primarily at the popular but small Falls Platform. There were also scenes to be seen at the Riffles Platform and Lower River River Platform. There's a covered, open air structure at the junction of the elevated boardwalks to Riffles and Falls platforms called The Treehouse.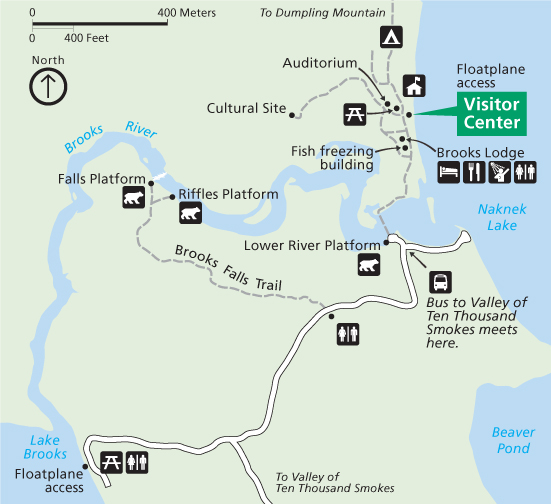 The cabin rooms were small, but packed four to a room. Spartan, but they did feature running water. Here's what our room looked like.
When we were gearing up or gearing down, I usually stepped out to the porch, where there was a small bench. There simply wasn't room for four grown men to sling camera gear and get into/out of rain pants.
One moment of excitement was had at the cabin (and I think it was had when upon our return to camp for dinner the first night), I opened the door to see an adult brown bear lumber past our cabin about 20 feet away. I went back in to alert our guide (and Team Swede). We naturally went back out to see, only to find two more following the first. That was a moment, but it passed too fast for photographs or video. Thankfully, an image like that sears into one's memory.
One that didn't quite get away was on our return from the evening shoot today. Eric was on point and came upon a lynx standing in the middle of the trail. We were all conditioned to be watchful and fearful of bears on the trail. So when he approached those of us in the rear with excited gesticulations, we instinctively went into retreat. But he summoned us forward to see this beautiful cat. My camera settings were all wrong, and I fired off a couple of losers before correcting things. Lucky for me, the kitteh was in stalking mode and we were a distance-keeping annoyance. So Mr. Landscape guy here captured a few keepers before the lynx slowly walked into the brush in pursuit of dinner.
Wow!
A Full Day at Brooks Camp
Grizzlies of Brooks Falls, Alaska Part 2
GRIZZLIES OF BROOKS FALLS, ALASKA-#2
from
Timberpak Video Prod-Ken Roggow
on
Vimeo
.